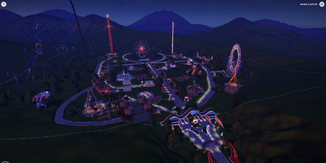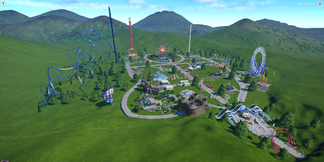 Hi, my name is Pinkachu and I'm a member of the Community Development Team, specializing in Games. In addition to my work at FANDOM, I am also a contributor to several communities and even admin a few of my own. Planet Coaster Wiki is one of those (see list below). I'm here to help this community grow by fostering engagement and making the wiki more accessible and useful for all Planet Coaster fans. 
Planet Coaster is not only my first Theme Park game, it is also my first simulator. Playing in Early Access was quite an experience and my first attempt at a park was horrible. I had name it Doodlepad Park because it literally looked like I had handed a toddler a crayon and paper. Wherever the lines ended, a ride was placed. It was bad. My second attempt are the images you see here. I took the time to plan it out and the park looks much better for it. The roller coaster I named the Vominator, cause I am pretty sure I wouldn't even go on it, and I love roller coasters. Park 2 (Pinkachu's Park) will be a work in progress as more rides and decoration come out.
I started the wiki because I thought the game had a lot of potential and having a well rounded wikia would be beneficial to the fans. I still do! I bought Early Access because it knew it would help me with assets for the community but more so because it just looked too damn fun to not play it. I was right.
My personal wikis
Other wikis I hang out at