Jurassic World: Dominion Dominates Fandom Wikis - The Loop
Play Sound
Frontier Developments, also known as "Frontier" and "Fdev" is a British video game developer based in Cambridge, England and founded by David Braben. They are known best for producing Planet Coaster, Planet Zoo and RollerCoaster Tycoon 3. In 2016, they had approximately 300 full-time employees[1].
Background
Frontier was founded in 1994 by David Braben, co-author of the seminal "Elite", to carry forward his groundbreaking work and development ethos into projects with a scale and ambition that only teams of skilled professionals can tackle.[2]
David plays a very active role in the company. With a talented team of developers and experienced managers he has helped Frontier successfully to navigate three exciting decades of the ever-changing technology landscape of mass-market gaming platforms and overseen Frontier's emergence as one of the worldwide games industry's leading independent developers.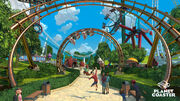 Frontier's development strengths are immersive, fun gameplay design and unparalleled artistic quality underpinned and enabled by cutting-edge technology development and a talent for getting the best out of hardware and UI.
Below is a list of games developed by Frontier.[3]
| Year | Title | Publisher | Platform |
| --- | --- | --- | --- |
| 1995 | Frontier: First Encounters | GameTek | MS-DOS, Microsoft Windows, Classic Mac OS, Linux |
| 1995 | Darxide | Sega Enterprises | Sega 32X |
| 1998 | V2000 | Grolier Interactive | Microsoft Windows, PlayStation |
| 2000 | Infestation | Ubi Soft | Microsoft Windows |
| 2003 | Darxide EMP | Frontier Developments | Pocket PC |
| 2003 | Wallace & Gromit in Project Zoo | BAM! Entertainment | Microsoft Windows, Xbox, PlayStation 2, GameCube |
| 2003 | Dog's Life | Sony Computer Entertainment | PlayStation 2 |
| 2003 | RollerCoaster Tycoon 2: Wacky Worlds | Infogrames | Microsoft Windows |
| 2003 | RollerCoaster Tycoon 2: Time Twister | Atari, Inc. | Microsoft Windows |
| 2004 | RollerCoaster Tycoon 3 | Atari, Inc. | Microsoft Windows, OS X, iOS |
| 2005 | RollerCoaster Tycoon 3: Soaked! | Atari, Inc. | Microsoft Windows, OS X |
| 2005 | RollerCoaster Tycoon 3: Wild! | Atari, Inc. | Microsoft Windows, OS X |
| 2005 | Wallace & Gromit: The Curse of the Were-Rabbit | Konami | PlayStation 2, Xbox |
| 2006 | Thrillville | LucasArts | PlayStation 2, Xbox, PlayStation Portable |
| 2007 | Thrillville: Off the Rails | LucasArts | PlayStation 2, Xbox 360, PlayStation Portable, Nintendo DS, Wii, Microsoft Windows |
| 2008 | LostWinds | Frontier Developments | iOS, Wii, Microsoft Windows |
| 2009 | LostWinds 2: Winter of the Melodias | Frontier Developments | iOS, Wii, Microsoft Windows |
| 2010 | Kinectimals | Microsoft Game Studios | Xbox 360, Windows Phone, iOS, Android |
| 2011 | Kinectimals: Now with Bears! | Microsoft Studios | Xbox 360, Windows Phone, iOS, Android |
| 2011 | Kinect: Disneyland Adventures | Microsoft Studios | Xbox 360 |
| 2012 | Coaster Crazy | Frontier Developments | iOS |
| 2013 | Zoo Tycoon | Microsoft Studios | Xbox 360, Xbox One |
| 2013 | Coaster Crazy Deluxe | Frontier Developments | Wii U, iOS |
| 2014 | Tales from Deep Space | Amazon Game Studios | Fire OS, iOS |
| 2014 | Elite Dangerous | Frontier Developments | Microsoft Windows, OS X, PlayStation 4, Xbox One |
| 2015 | Screamride | Microsoft Studios | Xbox 360, Xbox One |
| 2015 | Elite Dangerous: Horizons | Frontier Developments | Microsoft Windows, Xbox One |
| 2016 | Elite Dangerous: Arena | Frontier Developments | Microsoft Windows, Xbox One |
| 2016 | Planet Coaster | Frontier Developments | Microsoft Windows |
| 2018 | Jurassic World Evolution | Frontier Developments | Microsoft Windows, PlayStation 4, Xbox One |
| 2018 | Elite Dangerous: Beyond | Frontier Developments | Microsoft Windows, Xbox One, Playstation 4 |
| 2019 | Planet Zoo | Frontier Developments | Microsoft Windows |
Gallery
See also
References