Jurassic World: Dominion Dominates Fandom Wikis - The Loop
Play Sound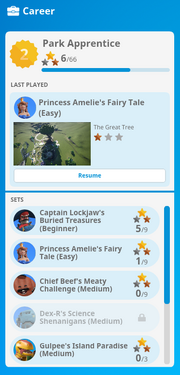 Career is a game mode in Planet Coaster that allows players to progress by completing scenarios in varying difficulties. Players will start with a pre-set park which can also be opened in challenge mode and sandbox mode.
Career Mode Scenarios
There are currently 7 scenario sets, with each containing three scenarios. Every scenario has three objectives to complete, which when completed award the player a bronze, silver, or gold star based on how the perceived difficulty of an objective is. These stars go towards the player's Career level.
Set Name
Career Level
Dificulty
Scenarios
Captain Lockjaw's Buried Treasures
0
Beginner
Pirate Battle - Players will be given a partially finished park. Players will need to finish the park by completing the ride construction, hire staff and open the park for guests. 
Creature Awakens - Players will need to finish construction of the park and hire staff, then open the park.
Pirate Cove- The construction here needs completed. The lack of fun has led to a lack of guests and a lack of income. Turn this park around before the ship capsizes!
Princess Amelie's Fairy Tale
2
Easy
The Great Tree
Silversmith Manor
Good Gully Miss Molly
Chief Beef's Meaty Challenge
0
Medium
Chief Beef's Raceway - The raceway was built on the site of an old seafront racetrack. Unfortunately it was poorly designed due to money issues. Guests are unhappy. They need someone to fix this mess.
Oak Island - This park has been around for over a century but is currently outdated. Add or replace rides and update the park.
Downtown - Due to a high crime rate and a high salary demand by security guards, this park is not what it could be. Turn it around and bring some joy to the area.
Dex-R's Science Shenanigans
3
Medium
Night Encounters- The government recently sold off a tract of restricted land to private buyers. Keep the park in the black, earn enough to research new rides and make this strange park a success.
Golem Rampage -
Shops N' Drops -This futuristic park's shop franchisors have questioned their long term commitment after underwhelming financial results. Retain their trust by squeezing as much profit as possible from your shops and facilities.
Gulpee's Island Paradise
0
Medium
Festive King Coaster's Crackers
0
Hard
Festive Funlands - Players are given a loan with which to build a festive park in a snowy location. Stay within the budget and bring in a profit to pay off the loan.
Cavernous Coaster - This park has to be built within a cavern. Building above the ground is prohibited. Guest numbers are limited. Players will need to overcome these obstacles to succeed.
Back from the Brink - This abandoned park has been left in a real mess with unpaid loans and a negative cash balance. The layout is ludicrous and some of the rides are inefficient. Players will have their hands full with this one.
King Coaster's Royal Decree
5
Hard
Miss Elly's Round Up
0
Hard
Miss Elly's Diner - Plenty to do and see here but the location is very remote. Players will need to figure out how to draw in the crowds and make this park reach it's full potential. This park has a pre-built wooden coaster.
Goldmine Tower - This mine was bought from a prospector but the owner was scammed. Since there is no gold, the owner has decided to turn the mine into a theme park. He added a western theme and some fireworks but needs the player's help to make it better.
Starship Hanger - Some pretty famous Sci-fi themed movies have been filmed in the desert but the location is no longer in demand thanks to the magic of CGI. The company doesn't want to let it go, and wants the player to turn it into a theme park instead.
Career Mode Level
Your career mode level is dependent on how many objectives you have completed. Each level requires a certain amount of stars (objectives) to be completed in order to level up.
| | | |
| --- | --- | --- |
| Level Name | Level | Requirement Stars |
| Coaster Novice | 1 | 0 |
| Park Apprentice | 2 | 4 |
| Entrepreneur | 3 | 7 |
| Skilled Manager | 4 | 10 |
| Management Hero | 5 | 14 |
| Expert Builder | 6 | 20 |
| Master Builder | 7 | 28 |
| Theme Park Legend | 8 | 36 |
| Planetary Planner | 9 | 45 |
| Legendary Builder | 10 | 55 |